Make better people decisions, faster.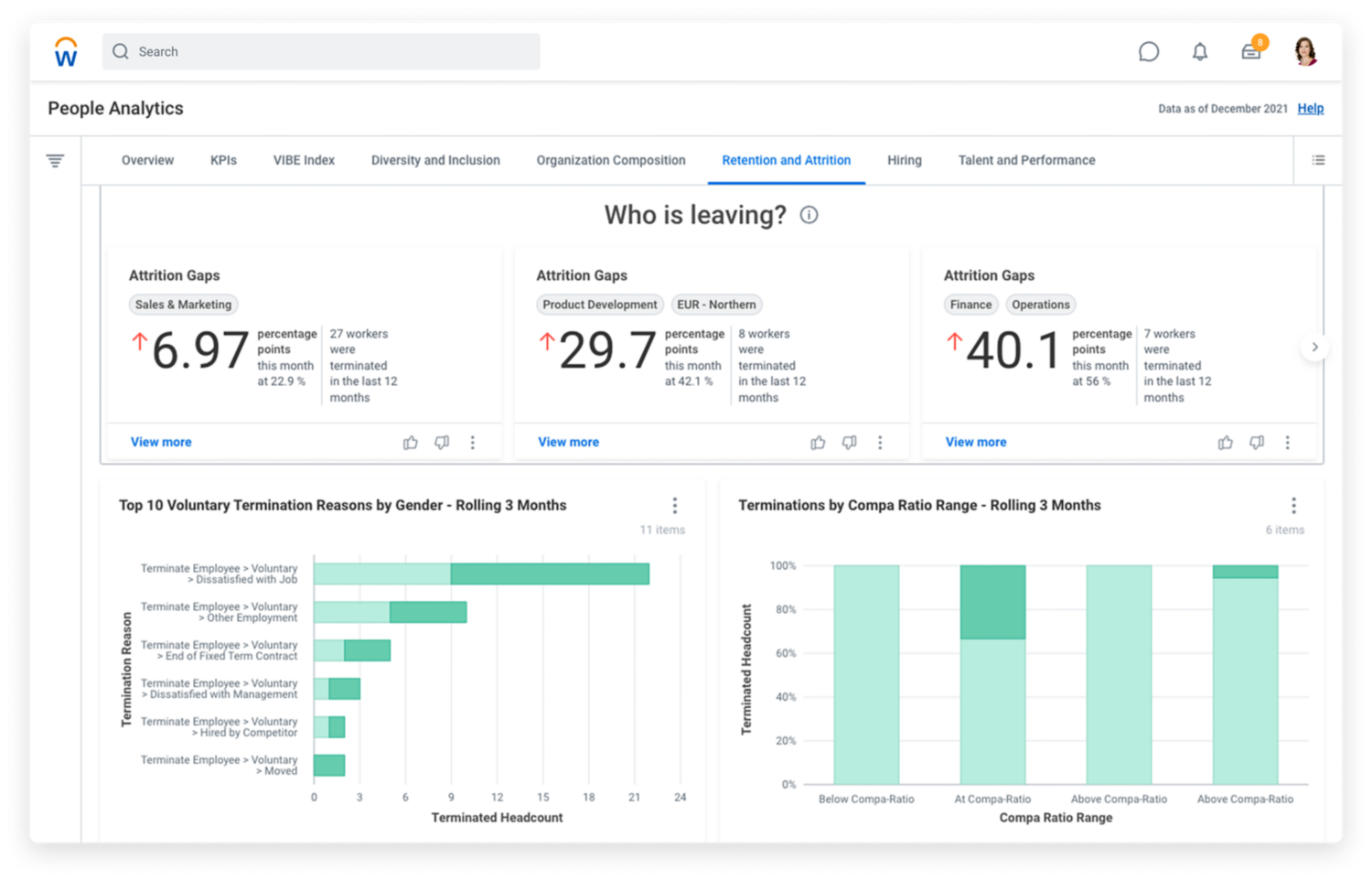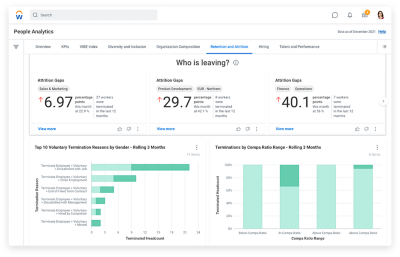 Discover critical workforce opportunities.
Powered by augmented analytics, Workday People Analytics identifies, surfaces, and explains key insights you may have otherwise missed.
Insights are prioritized, tailored to your role, and paired with narrative explanations so you can confidently make critical workforce decisions.
KEY CAPABILITIES
Prioritized business insights

Natural language "story" generation

Automated insight discovery

Anomaly identification
Quickly focus your efforts.
Provide business leaders with secure and personalized insights about their top opportunities and risks. Workday prioritizes these insights for you:
Diversity and inclusion

Organization composition

Retention and attrition

Talent and performance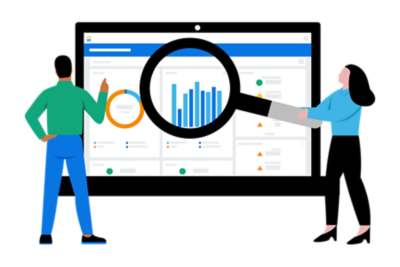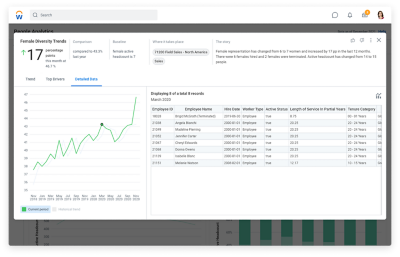 Make sense of your employee data.
The problem with data today is knowing what to focus on and how to understand what it's telling you. That's where Workday People Analytics comes in.
Get the story, not just a number.
We pair each workforce insight with a "story," told in natural language that everyone can understand. This allows your teams to make better sense of data and act on it.
Track the most important metrics.
We surface the top three business questions across all customers. This way, you can keep an eye on what matters most.
Free up time for what matters.
Spend less time searching through data by automating insights discovery. Then export insights into slides for collaboration or into discovery boards for more analysis.
Analyze and act in one place.
Dig deeper into any insight to uncover what's driving that trend. You can even identify a specific employee linked to a driver and go directly into their profile to take immediate action.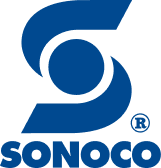 "Workday People Analytics accelerates our efforts by uncovering issues we haven't previously looked for, and makes insights available with very little work on our part."
Analytics and reporting resources just for you.
What is augmented analytics?
Augmented analytics uses pattern detection, graph processing, and machine learning to transform HR analytics into actionable, easy-to-understand insights.
How does augmented analytics work?
Augmented analytics automates the analysis of millions of data points to find meaningful data links that help answer pressing business questions.
How does Workday People Analytics use augmented analytics?
Workday People Analytics is an augmented analytics application powered by our storyteller engine. It translates talent and skills data into meaningful insights about your people.
What are the benefits of using augmented analytics?
Augmented analytics empowers leaders to make better, faster decisions about their people—from skills, performance and retention to diversity and inclusion.
See how we get
you live fast.
Ready to talk?
Get in touch.